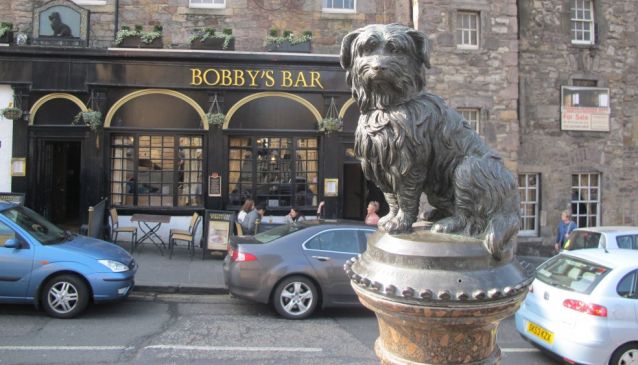 Edinburgh's Beloved Bobby
Arts & Culture
Possibly one of the most famous dogs in the world, his grave has become a huge tourist attraction
One of the most loved characters from Edinburgh's past is not a person but in fact a little dog - a Skye terrier named Bobby. He was remarkable in his devotion to his master, especially in guarding the grave of his beloved owner for 14 years.
John Grey was born in Forfar in 1814. Unable to find work, he travelled south to Edinburgh and was employed as a night watchman by Edinburgh City Police. John decided that to keep him company on his beat he would need a police dog and chose a 6 month old Skye terrier which he named Bobby (appropriate for a police dog as they were known as "bobbies").
The pair were inseparable and became well-known round the neighbourhood of the Grassmarket and the Cowgate. In 1858, Old Jock (as he was known) became ill with tuberculosis and died on the 8th of February. He was buried in Greyfriars Churchyard, an area that he and Bobby knew well. The day after the burial, Bobby was found lying on the freshly dug grave and nothing would entice him from it. He was fed by local neighbours and friends of Old Jock. He was taken in by them during particularly cold winters. The story of the little dog's devotion spread throughout the city and Sergeant Scott of the Royal Engineers, based at Edinburgh Castle, brought Bobby a weekly treat of steak and trained him to recognise the One O' Clock Gun, which is fired every day from the Castle, as a signal to go and be fed at a nearby eating house.
In 1867, William Chambers, the Lord Provost of Edinburgh, paid for Bobby's Dog Licence, making Bobby the responsibility of the City Council.
Bobby's loyal vigil lasted until he died on the 14th of January 1872, aged 16. He was buried in front of the church at Greyfriars in an un-consecrated plot, not far from his master's grave. The same year, Baroness Angela Burdett–Coutts commissioned a drinking fountain and a statue as a lasting memorial to Bobby. The monument is now Edinburgh's smallest listed building and used to face the graveyard and the pub. However, the pub owner allegedly had the statue turned around so that his pub would appear in the background of the many photographs taken. It was used as a public water supply until it was turned off in the 1950s due to hygiene regulations.
Greyfriars Bobby, as he will always be known, had a royal fan in Queen Victoria, when she visited his grave on one of her trips to Edinburgh.
The story of Greyfriars Bobby was made into a Walt Disney film in 1961 and a modern version in 2005. He remains, to this day, possibly one of the most famous dogs in the world and his grave has become a tourist attraction in Edinburgh.
For those interested in Bobby's story, his feeding bowl and collar are in the Museum of Edinburgh in the Canongate, and entry is free!