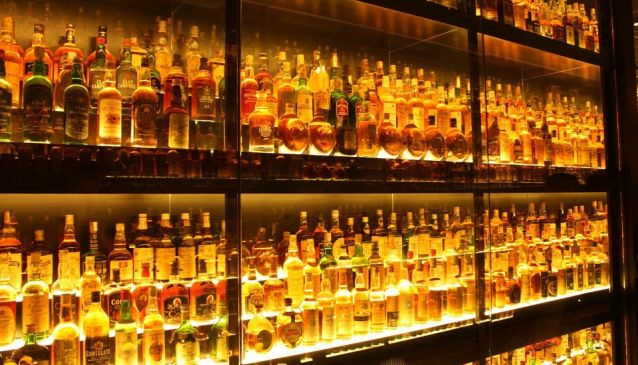 Whisky in Edinburgh
Food & Drink
Take the rare opportunity to see how whisky is made, step by step, detail by detail
Edinburgh may only have one distillery in its neighbouring area of East Lothian, but that does not mean that it has nothing to offer to whisky enthusiasts. If you are energetic enough to climb to the top of the Royal Mile, where Edinburgh Castle overlooks the city, you are probably enthusiastic enough to enjoy everything you will find on your walk back down the High Street.
To begin with, as you leave the castle esplanade, on your right-hand-side you can fine The Scotch Whisky Experience; it is not only one of the best whisky shops in town, but also one of the many exciting tourist attractions in Edinburgh. It features the Amber restaurant, which serves traditional Scottish cuisine. Taking a ride in one of the very comfortable whisky barrels, you will be taken on a tour through space and time, and given the rare opportunity to see how whisky is made, step by step, detail by detail. What's really good about this attraction (apart from whisky itself), is the choice of languages for the audio tour, as well as the selection of different kinds of tours to suit your interests and needs. Every visitor who is over the age of eighteen, gets to taste and learn about the variety of Scottish whiskies, and as a bonus, gets to take home their very own Glencairn whisky glass!
Making your way further down the Royal Mile, you will come across the Royal Mile Whiskies. Royal Mile Whiskies is a well-established specialist in malt whiskies and is a must visit for any true appreciator of the drink. Royal Mile Whiskies was established in 1991 and has gone on to become a well renowned shop, providing a wide range of whiskies that should suit even casual buyers. Royal Mile Whiskies is a lovely wee shop, located just across the road from the Scottish Malt Whisky experience and it is a charming establishment, easily identified by its big bronze letters above the doorway.
Inside the shop you will be greeted by a very friendly and knowledgeable staff, which is fantastic as whisky enthusiasts who love to chat about Scottish malt whisky will be able to take time tasting and getting to know about a product before making a purchase. For those true connoisseurs, Royal Mile Whiskies offers a special range of – slightly more expensive – Connoisseur's Choice bottles, sourced from various distilleries, which are all equally lovely. They offer a wide range of Connoisseur's Choice bottles, from Ardbeg to Ledlaig, and Mortlach to Tomintoul.
On exiting Royal Mile Whiskies, if you decide you have still got a bit more cash to spend on another dram, or if would like to buy another bottle, there are two more places that you should look out for. The first is a bar named the Whiski Bar, which is located across from the Bank Hotel on the Royal Mile. It's a gentle walk down hill from Royal Mile Whiskies, past St Giles Cathedral. On arriving at this bar, you will notice the fine range of whiskies, beers and ales that they have on offer. It is definitely worth a visit because it is thirsty work walking down hill! A refreshing drink may hold you in good stead, should you wish to continue down the mile to the last named Cadenhead's whisky shop.
The friendly owner of Cadenhead's is very knowledgeable about whisky as well as a bit quirky. Cadenhead's is a small store - more specialist than Royal Mile Whiskies - but well worth a visit; the owner and staff are very experienced and you can find some extraordinary whiskies there, like the Cask Strength Macallan 25yr, a beautiful whisky from a sherry cask, which is sadly no longer being produced.
If you stray from the Royal Mile and you still wish to locate additional whisky shops, there are several you should look out for near Princes Street, for example 'Whisky Shop' in Princes Mall or 'The Whisky Shop' located just off the Royal Mile, on Victoria Street. There are several other whisky shops located around Edinburgh, which are all worth a visit. However, the best stores are located on the Royal Mile, with Royal Mile Whiskies being the best, not only because it has won awards.
There is malt whisky out there for everyone, and it can be enjoyed at almost any time. Whether you are up a mountain enjoying a cheeky nip while taking in the vista, or sitting in a bar, enjoying the Edinburgh nightlife, there is a whisky for every occasion and these shops can cater to your needs.
The whisky world is your oyster in Edinburgh and it is important to remember that there are no bad whiskies, some just happen to be better than others.