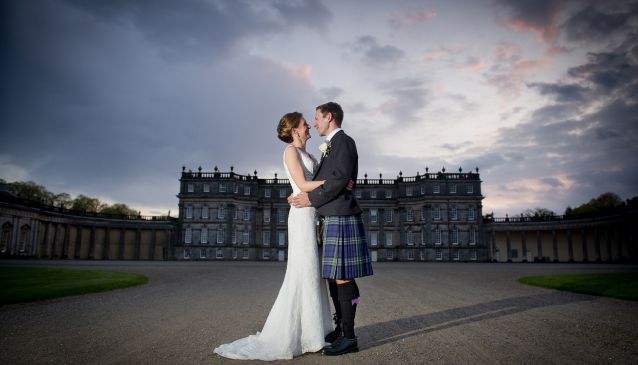 Dream Venues for the Perfect Wedding
Inspiration
Edinburgh can provide a huge array of stunning places to tie the knot to suit all tastes...
No Matter where you get married it should always be special! It is, after all, something you are going to do only once in a lifetime (hopefully)! Planning the big day can take months or even years of decision making and can also cost a considerable amount financially. The perfect dress, your dream venue, catering for all your guests...the list goes on!
One of the most important elements to consider is the choice of venue, this will depend on the type of wedding you are planning and of course, the budget. Edinburgh can provide a huge array of stunning places to tie the knot to suit all tastes. Here are our Top 5 suggestions:
Our first suggestion must be Hopetoun House, the stately home and residence of The Earl of Hopetoun. Built by William Bruce between 1699 and 1707, it is situated near the historic town of South Queensferry, 11 miles west of Edinburgh City Centre. More of a palace than a country house, Hopetoun stands in 100 acres of parkland and is a stunning venue for an elegant and romantic wedding.
There is a choice of exclusive settings within the house and grounds so there is an option for any size and style of wedding. With an award winning wedding co-ordinator and a top-notch catering partner, Hopetoun could be the place where your dreams come true.
Melville Castle What could be more romantic than having your own Scottish Castle for the day? Well you can, Melville Castle is situated South of Edinburgh, just 20 minutes from the city centre. Tucked away in it's own woodland setting, a majestic building which can be hired exclusively for your wedding.
With 7 public rooms and 32 guest bedrooms, Melville has been recently renovated under the watchful eye of the new owners, the Hay family, who want it to be the "Castle of your Dreams", perfect for the bride who wants to be Queen for the day!
Mansfield Traquair is perhaps one of the most unique places in Edinburgh. Truly a hidden gem, it is known as Edinburgh's "Sistine Chapel", a masterpiece of neo-romanesque architecture. It may be that the real treasures are the exquisitely beautiful hand-painted murals inside, by the Irish artist Phoebe Anna Traquair. Her stunning work took 8 years to complete and now provides a wonderful back drop for a fairytale wedding. With the ability to hold up to 700 guests there are no space constraints. Experienced wedding planners and a prestigious event catering partner, Mansfield Traquair church makes for a special and stunning wedding.
One thing that sets Edinburgh apart from many other cities in the world are it's hidden underground caverns, rediscovered after more than 100 years, they are most commonly associated with the spooky ghost tours so popular with tourists. However, The Caves in Niddry Street South, are right in the heart of the city and have been transformed into some of the most quirky and atmospheric venues anywhere. The Caves are a truly unique setting for a wedding , the possibilities of space are numerous so weddings of any size can be catered for. Small intimate gatherings of 60 people and up to the capacity of 450 people can all be accommodated. For a memorable day in a unique setting with an elegant eye to detail, look no further than under your feet!
At first glance, The Royal College of Surgeons in Edinburgh may not be an obvious choice of wedding venue, but look a little closer and expect the unexpected. Located in the heart of the city, just 10 minutes from Princes Street, Surgeons Hall cuts a striking figure. The Playfair building built in 1832 houses the Museums of Surgery, Dental Surgery and also a magnificent main hall and 8 meeting rooms which can be used for both ceremonies and receptions. In addition to this there is also The Quincentenery building of contemporary design which contains a large main hall with 3 large reception rooms. The King Khalid building also within the site is a converted church which can be used for various events. Surgeons Hall also houses a modern 4 star hotel "Ten Hill Place" which can be used to accomodate your guests.
So go and see for yourself there is so much more than meets the eye at the beautiful Surgeons Hall!