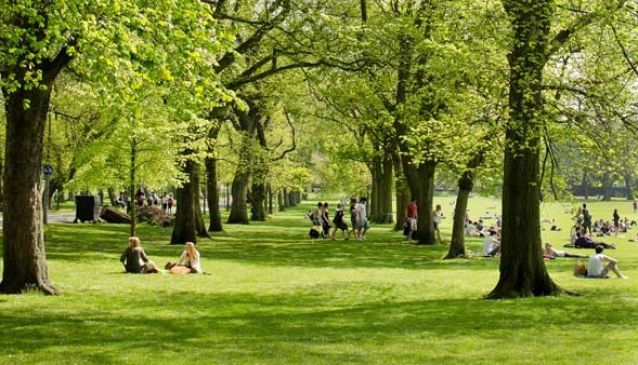 Edinburgh's City Retreats
Retreats & Relaxation
a special place to sit, relax, walk through and experience the very heart of the city.
Edinburgh is fortunate in its abundance of grassy expanses - making it often difficult to determine whether you're deep in the country or in the centre of the nation's capital city. On the few sunny occasions we get, these areas are quickly sought out as a haven for BBQ's, music, sports and social sunbathing. Here's a few of our favourite spots for enjoying the sunshine when it decides to show its face:
The Meadows
Edinburgh's favourite back garden, the Meadows can easily be identified by the rising haze of barbecue smoke; gently hovering above the middle of the city on a hot summer's day. With the location being conveniently placed in the centre of student-ville, it's a guarantee that as soon as the sun shines and the pressure is off, the grass will be filled with crowds of young scholars, clutching instruments or maybe even their favourite tipple and chatting up a storm until the sun goes down.
Yet, it's an eclectic bunch who gathers here. At all points of the summer period, it can either be a place to simply read a book quietly, or you can involve yourself in the diverse mayhem: tight-rope walkers, gradually increasing drum circles, jugglers, impromptu live bands and fire dancers all contribute to the relaxed party atmosphere. This is not your everyday play-park.
There's a fantastic array of facilities nearby to add to the occasion – quirky cafés and delis are a great place for a cheap, outdoor lunch with varied, tasty, and locally sourced produce.
Prince's Street Gardens
For a more family friendly setting, Princes Street Gardens is ideal for a place to put down your shopping bags (or gladly escape the hustle and bustle of the Princes Street shops) and have a wee rest in the mid afternoon heat - which always tends to catch Edinburgh by surprise. Prepare for it to get a little crowded, especially at weekends. Yet on the plus side, you're never far from an ice-cream stall and there are majestic buildings surrounding the Gardens, making it a special place to sit, relax, walk through and experience the very heart of the city. Lying back with captivating Edinburgh Castle towering above you in the west gardens is a must and it's powerful presence does also provide some shade if you prefer to keep on the cooler side.
Pilrig Park
Situated west of Leith Walk, this grassy spot is made for those looking to escape the crowds. Hidden away from the city centre's busy streets and a favourite for Leith locals, the (optional) entrance to this quiet park is literally a jump over the encircling wall. Definitely not worth a go in a dress, ladies! There's plenty of room on this patch of grass and therefore is a must for dog owners, frisbee enthusiasts and is definitely a decent rounders spot.
Holyrood Park
Perhaps Edinburgh's most renowned park, Holyrood Park is of interest to many who wish to survey and analyse the city from great heights. The main feature is Arthur's Seat, an 800 metre high extinct volcano which stands overlooking Edinburgh. The climb isn't too strenuous (so most people say) and the panoramic views are definitely worth the rocky, windswept journey. If you're making the climb, its worth wearing a pair of decent shoes, Arthur will make you regret the choice of ballet pumps. A popular choice for the more active citizens: walkers, runners and climbers venture here daily, and the number of smaller peaks and ponds make it an attractive jog. The walk around the park eventually leads you to Holyrood Palace. Exploring into the evening makes some amazing spots for catching the sunset, making it a certain feature on the bucket list of tourists.
So, when the sun comes out to play, Edinburgh's grass is designed to suit every possible need and is never too far away...