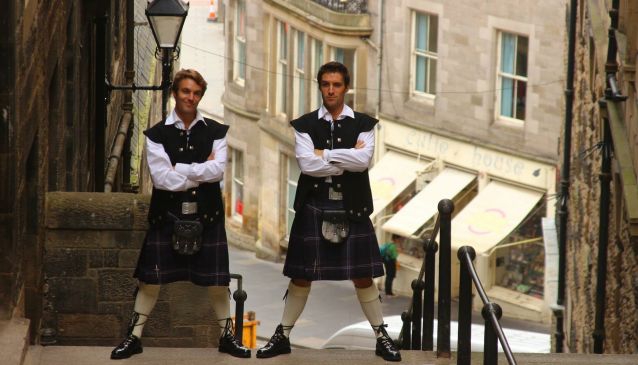 Culture, Castles and Kilts in Edinburgh
Edinburgh
We swung by Bowden's Kilt Hire to get fitted for a pair of traditional Scottish kilts...
We knew Edinburgh would be different than other destinations. The capital of Scotland was perhaps not the most exotic of our choices, but it was one of our top picks for one reason: culture.
It was not our first time to Scotland. We'd actually come here last New Year's to celebrate the infamous Scottish festival of Hogmanay and make our first attempt at a full-length travel episode.
We returned to Scotland for the same reason of our first visit: Scotland is an ancient land with a firm grasp on its unique cultural identity, easily one of the most distinctive region in the United Kingdom. In Scotland, traditions run deep and locals are more than happy to share them with you.
The flight from Reykjavik to Scotland was the shortest one yet, and we were collected by local MyD staff Paul and Sara and taken to our accommodation in the Old Town of Edinburgh. We'd been put up in a five-star penthouse apartment in The Chambers, where we each enjoyed a massive room to ourselves with a view over the New Town below.
Unfortunately, my health was still suffering after a week-long fever, so I went to the Royal Infirmary to get a blood test to check for possible tropical diseases. Doctors kept me overnight on suspicion of malaria, but let me go the following day with a clean bill of health.
It did, however, mean I missed the first event of the trip: golf. Alex and Paul played nine holes of Scotland's most famous athletic invention before picking me up from the hospital and taking us over to nearby Craigmillar Castle, the former residence of Mary Queen of Scots.
Rumors say that the castle is connected to one of the most mysterious spots in Edinburgh: the Gilmerton Cove. Don't be fooled by the name – it has nothing to do with a cove on the coast. It's actually an underground series of chambers carved by hand by an unknown group of people at an undetermined time. Speculation on their origins range from a Hellfire Club meeting spot to a hiding spot for the Knights Templar, but no one knows for sure.
The next day we swung by Bowden's Kilt Hire to get fitted for a pair of traditional Scottish kilts, which we'd decided to wear for the day's filming – as much for style as for comfort!
But when we arrived at the gates of Edinburgh Castle, something unexpected happened: tourist after tourist started asking us to pose for photos with them! Everyone thought we were locals, so we rolled with it and spent the entire day taking photos with dozens of tourists.
After watching the one o'clock salute from the castle grounds, we then walked down the Royal Mile towards the Palace of Hollyrood House, the residence of the British Royal Family in Edinburgh. The palace holds the ruins of an old abbey as well as the personal effects of many Scottish royals.
We spent the rest of the day cruising along the Royal Mile, the main artery of the Old Town. Here we visited the Scottish Storytelling Centre to experience Scotland's rich oral tradition of tale-telling; we then dropped into Mary King's Close, a well-preserved example of the narrow alleys (called 'closes') that lead off the Royal Mile and once housed most of Edinburgh's working class.
The day concluded with a lesson on Scotch from the Scotch Whisky Experience. There we learned about the four main whisky-producing regions and sampled a few drams from each. Our favorite? The peaty single-malts from Islay.
After our big day in kilts, we spend the rest of the week in a mellower manner. We moved into a room at the Angel's Share hotel, right off the bars and restaurants of Rose Street in the New Town. Itching for art, we met up with local blogger Annierose Knox and visited the National Gallery for a (free) look at the works of our favorite painters.
Dining was an activity in itself: in addition to starting every morning with a haggis-filled Scottish breakfast, we enjoyed traditional fare at the Laird & Dog Inn, fresh local trout, scallops, salmon, halibut and crab at the water-front A Room on Leith, authentic Indian cuisine at Pataka, before grabbing a few pints in the Grassmarket district.
Lastly, we burnt off the pints by climbing Arthur's Seat, a massive hill just outside of town with a view of all of Edinburgh. With the fresh Scottish wind blowing in our hair we reflected on our week. We'd soaked up culture, rested and recovered our strength, and confirmed our belief that Scotland is an eternal destination that we would be happy to visit again.
Sunday morning we found ourselves once again in the airport, boarding a plane for a quick flight to our next destination: London.
Want to know what's next in store for Marko and Alex? Then keep an eye on our blog and tune in to BBBtv…