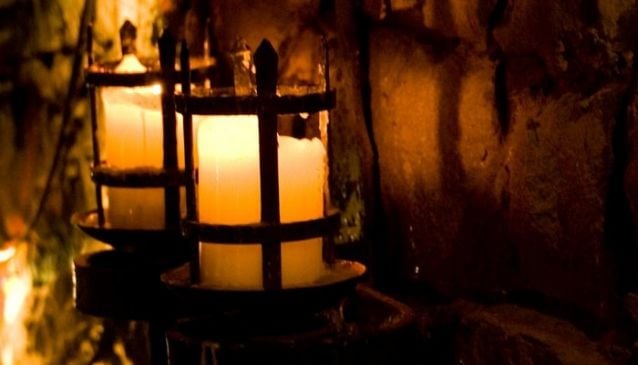 Our Ghostly Guide to the Old Town
Arts & Culture
If you're brave enough, we'll take you on a special tour of Edinburgh's Most Haunted.
If you've ever unknowingly knocked over your drink on a night out and sworn blindly that it was the devious workmanship of a mischievous ghostie, you may not be alone; although on that occasion you were perhaps politely asked to leave the bar. In Edinburgh, ghostly tales and inexplicable events circulate on the late night grapevine. But where are the spookiest evening hangouts and who exactly has haunted these hideouts? If you're brave enough, we'll take you on a special tour of Edinburgh's Most Haunted. So watch your back.
The city's buzzing and atmospheric nightlife is largely built around a rich history; which does not shy away from the unsavoury and dark moments of the past. The Edinburgh Vaults which date back to 1788, were formed in the arches of South Bridge and extend to the north side of the Cowgate, creating a series of underground tunnels. These are home to many a hair-raising tale which currently entertains ghost tours and intrigued international travellers. Although nowadays a point of public fascination, the Vaults were once home to everyday small businesses and tradespeople who lived in destitute and dreadful conditions. They were also reported to be the secret hiding place for unthinkable criminal evidence - the bodies of those killed for medical experimentation by the notorious Burke and Hare.
It's behind you…
There have been whispers about tales from The Vaults all over Edinburgh for centuries. These tales have been spread, discussed and likely exaggerated yet remain with many pubs in Edinburgh, all claiming to be still frequented by the punters from hundreds of years ago. Arguably the spookiest street of all is the Grassmarket which proudly promotes its faith in the supernatural. 'The Last Drop' (74 - 78 Grassmarket) claimed its name by being positioned opposite the last public hanging in the Grassmarket , where victims went for their final swift pint (or perhaps something stronger). A favourite with today's young back-packing contingent, the place is thought to be haunted by a young girl, who softly whispers the staff's names from the cellar when they are left alone.
If you were to venture a little down the street, The White Hart Inn (34 Grassmarket) is widely reputed to have a number of spectral souls residing. Burke and Hare were rumoured to have singled out some of their victims in this watering hole and it seems one or two have not yet managed to leave the place where mysterious movements, shadowy figures, doors slamming and inexplicable events have been clocked here over the years, enough to reward this pub "The Most Haunted Pub, 2005."
Clubs
After these pubs have been visited and if your spirits are still high, you may want to venture towards the most unique nightclubs that the Burgh has to offer. For a truly memorable evening, just enter The Caves.
Every inch of this venue has a story to tell, as it lies in the cavernous depths of the arches under the South Bridge vaults. There is great attention paid to the history which is preserved as much as possible, even with the same stone having been restored in the building so the past lives on in the walls. Today a vibrant and eclectic mix of entertainment is available here. The variety of live music and performances, particularly during the Fringe Festival, is when a visit to the Caves should be an absolute priority. As long as you keep a close, watchful eye of course!
Beware of the Banshee!
Our last stop is the Banshee Labyrinth – popularly renowned as Edinburgh's Most Haunted. The shadiest characters, thieving rebels and nasty troublemakers of the day once socialised here and appear to see no reason to stop their antics now.
Incidents and occurrences - reported by numerous patrons over the years – have included a grabbed ankle by 'Rosie', the alluring female ghost who targets attractive men from under the table, startlingly loud screams have been heard from the cellar and even a mysterious heavy hand on the right shoulder while standing at the bar.
The club has many hidden rooms and is definitely worth investigating. Nowadays, The Banshee attracts a lively and energetic crowd and is well-known for its regular live bands, making it an excellent final destination on our ghostly pub crawl.
An eerie presence and mysterious history follows partygoers from stop to stop in The Old Town, making night outs here unlike any other city. So be brave, have a dram or two in a few of these rare places, and see if you encounter anything unusual of your own.