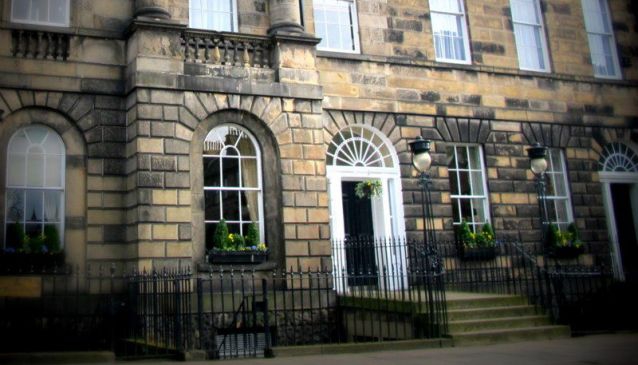 A Wee Walk Around the New Town
Adventure
Put on comfy shoes and walk it east to west or the other way around
The New Town was first planned in 1767 by James Craig. It stands as the one of the first and finest examples of town planning in Europe, with its symmetrical garden squares at each end of George Street. At the west end there's Charlotte square, and at the east end, St Andrew's Square.

The streets and squares in New Town are named after local notables and contemporary royalty e.g. George Street after King George III (1738-1820), Charlotte Square after his Queen Consort, Princes Street after the Prince of Wales and Frederick Street after Frederick Louis (1707-1751), the Prince of Wales and son of George III.

To enjoy a nice day out in the New Town you can put on comfy shoes and walk it east to west or the other way around. There are a number of interesting spots to visit on the way as well as numerous pubs, bars and cafes offering refreshments.

If you start your walk in St Andrew's Square, you will see the most prominent landmark here – the 37m (121ft) column of the Melville Monument. The statue atop is of Henry Dundas (1724-1811), first Viscount of Melville, a political leader who at the turn of the eighteenth century managed to make himself – in the words of his contemporaries – 'an absolute dictator of Scotland'. If you take a look around, at no. 36, you will see the Royal Bank of Scotland's headquarters – a building dating back to 1774 that was designed as a private home for a relative of Viscount Melville - Sir Laurence Dundas.

Moving on from St Andrew's Square, make your way into the Scottish National Portrait Gallery on Queen Street. It was built in 1885 in a French Gothic style as a gift of J. R. Finlay, the proprietor of "The Scotsman" (one of Scotland's biggest newspapers). It contains an extensive collection of portraits of figures responsible for the making of Scottish history such as Bonnie Prince Charlie and Lord Darnley.
Next stop is on George Street, opposite the Dome and next to the George Hotel. This is where we find the prominent St Andrew's and St George's church. This church was the New Town's first place of worship, built in 1784 and dedicated to the patron saints of Scotland and England. Walking along the street going west, you will go past the statue of George IV and the building of the Royal Society of Edinburgh. Once you have reached Hanover Street, turn right and keep going downhill, past Queen Street, enjoying the elegant private gardens on each side of Queen Street Gardens East. Turn left and you find yourself on Heriot Row.
This street is named after George Heriot who was the favourite court jeweller of James the VI of Scotland and I of England. He was predeceased by all his legitimate children, and that's when he decided to help educating the children of his home town, Edinburgh. When he died in 1624, he left a large fortune and endowed one of Edinburgh's most prestigious schools, also named after him – George Heriot's (the school is open to the public every Saturday morning 9am-12pm and during the first two weeks in August), as well as Heriot-Watt University and the Heriot Trust.

At no. 17 at the north end of Heriot Row stands a house, which is a private property and originally belonged to Robert Louis Stevenson's family (1850-1894). He was a literary celebrity during his time admired by many including Ernest Hemingwayand Rudyard Kipling. R. L. Stevenson was born in Edinburgh's Howard Place, his family then moved to Heriot Row in 1857. Stevenson was a sickly child and spent most of his childhood either at home or travelling with his parents looking for a climate which would ease his respiratory disease. Because he was so often absent from school he had to change institutions frequently; therefore, his early education was an amalgam of preparatory schools: in India Street, just off Heriot Row, a private school in Frederick Street, also very close to his home, and Edinburgh Academy, which was set a bit further away – in Henderson Row. It was the Edinburgh weather that blew Robert Louis Stevenson away from Edinburgh to Samoa, where he died. His native home, however, gets a significant amount of exposure in his work. Make your way back to George Street, going from Queen Street Gardens West, across Queen Street and along Frederick Street.

Warning! Apart from the obvious historical value, George Street is full of designer shops, jewellers, bars and restaurants, so it is easy to get distracted! You can easily get sucked into one of the shiny boutiques or cafes. George Street combined with Princes Street could make up a day's worth of walking up and down shop escalators…
…Back to the New Town walk! If you keep walking west on George Street you will get to the crossing with North Castle Street, watched over by the statue of the mathematician and theologian Thomas Chalmers. If you turn right into the North Castle Street, at No. 39 stands the home of Sir Walter Scott (1771-1832) between 1802 and 1826. Scott is solely responsible for creating the kind of touristy Scotland that visitors crave nowadays. All the tartan shops and the cacophonous sounds of bagpipes lined all the way up and down Princes Street and Royal Mile are the effects of his work. Moreover, the Waverley Station, Edinburgh's central train station, is named after one of his novels, Waverley (1814). The Heart of Midlothian (1818) lent its name to one of the two Edinburgh football teams – Hearts - and there are numerous film adaptations of his novels such as Rob Roy (1817) and Invahoe (1820). The house is not open to the public; however, those interested in Scott's memorabilia will find plenty in the Writers' Museum on the Royal Mile.

Carrying along North Castle Street, turn left once you've reached Young Street and continue to the North side of Charlotte Square - at No. 28 you will find the National Trust for Scotland headquarters (Wemyss House). Here, you can find information about historic buildings in Edinburgh and neighbouring regions, as well as a bookshop with a vast assortment on history, art and architecture. Moving from here you will get to Bute House, which is the official residence of the Secretary of State for Scotland. It used to belong to John Stewart, the third Earl of Bute (1713-1792), an 18th-century politician who rose to power as a courtier to King George III and played a crucial role in the political intrigues of the 1760s. While walking around Charlotte Square, you will notice that the central gardens are dominated by an equestrian statue of Prince Albert, consort to Queen Victoria. Charlotte Square is an excellent example of the typically harmonious European architectural design of the era. It was designed by Edinburgh-educated Robert Adam, and was completed at the end of the 18th century. The next house on our walk is the Georgian House, which has been restored and furnished with period pieces so that it resembles the house as lived in by its first owners.

The west side of the square is dominated by the West Register House. It was built in 1811 as St George's church but now houses the overspill from the Scottish Record Office, which is based in the General Register House situated at the east end of Princes Street. One of the main attractions of the West Register House is a permanent exhibition of Scottish historical documents including the Declaration of Arbroath, signed by King Robert the Bruce in 1320, affirming Scotland's independence.

At this point you have crossed the New Town east to west and may want to end your walk. The West End has a number of pubs, bars and restaurants, which you might find appealing as the pinnacle of your day out in the town.